The Two Summers MA/SD Educational Technology Program application process for the 2024-2025 cohort (beginning 17 July 2023) is currently open.
Applications received after the June 15 deadline and/or after the 2024-2025 cohort is filled will be waitlisted, but there are often last-minute openings as applicants' plans change.
The Admissions Committee CANNOT make a decision about an application until the application is submitted to the Graduate School and reviewed by them to be complete, with all required information and materials.
---
NOTE: Although Two Summers typically features one full week of on-campus classes and cohort-building during Summer Year 1 and capstone Summer Year 2, as of now, we are planning a hybrid format for Summer 2023.
The incoming Two Summers cohort (2024 – 2025) will meet face-to-face on the UConn Storrs campus from 9:00a – 4:00p on Monday, 15 July 2024 and Saturday, 20 July 2024; they will also meet virtually from 9:00a – 4:00p on Tuesday (July 16) through Friday (July 19).
While on campus, Two Summers students will be expected to adhere to all university, state, and CDC guidance, including wearing masks and maintaining a safe physical distance.
---
Assemble your application materials for the UConn Graduate School:

Personal Statement concerning your interest in a Master's or Sixth Year in Learning Technology
Current resume or Curriculum Vitae
TOEF, IELTS, PTE, and/or Duolingo scores (if an international applicant)
Unofficial transcripts of all collegiate work (including UConn)
Contact information for THREE (3) references (at least one from a current administrator, principal, assistant principal, or other supervisor)

Determine whether you will apply for the

Master of Arts Degree

OR

 

Sixth Year Certificate

. You can find more information about this decision on the UConn Two Summers Program Sixth Year Certificate and Frequently Asked Questions (FAQ) pages. As it is difficult to modify your selection after you've applied, please contact your human resources department about contract/certification requirements and/or a Two Summers program administrator if you have questions.
Complete the online Application to the Graduate School. First time users will be prompted to create an account.
For Program, choose either:
Master's Selections: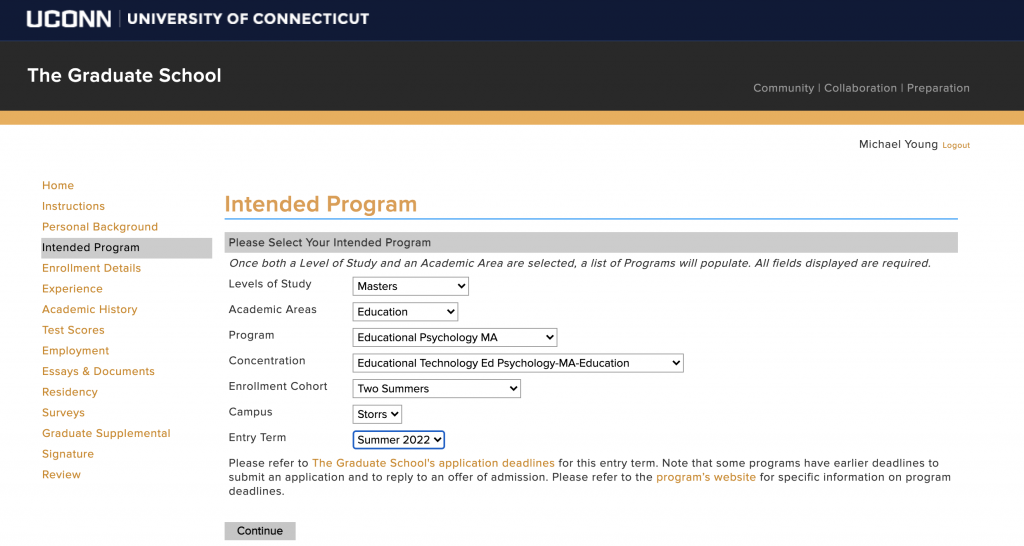 Sixth Year Certification Selections: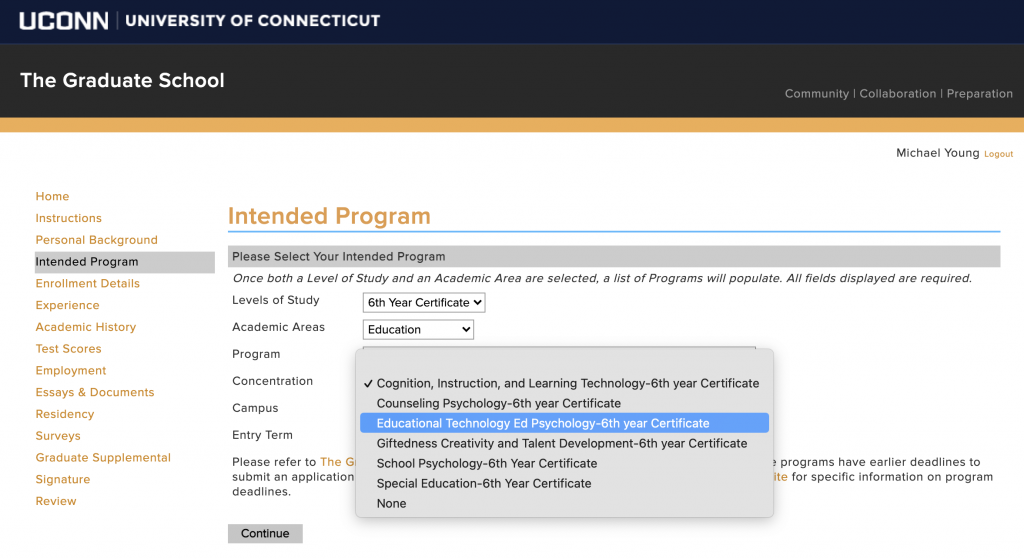 ---
1 During the application process, an applicant will be asked to provide names and e-mail contact information for three recommenders. The recommendation providers will be emailed instructions on how to enter the system and add their recommendations to your electronic application. You must input the names and contact information for each provider, whether they will be submitting electronically or on paper. For providers that wish to submit their letters electronically, be sure to mark "Yes" for the online submission question on the Provider Input Form.